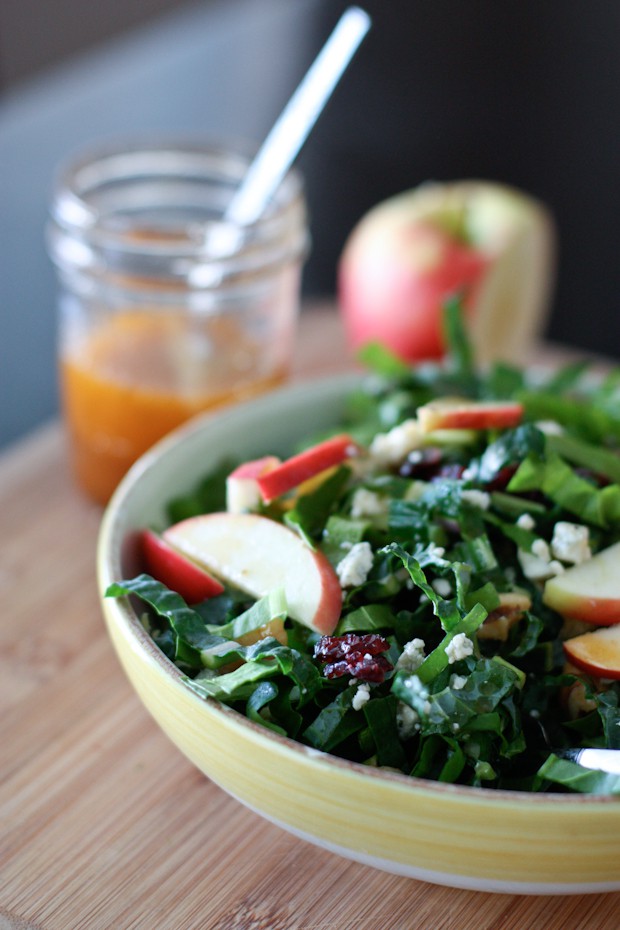 Get your superfood winter greens in this meal-in-a-bowl! Go lighter on the cheese and cranberries so you don't wind up having too much saturated fat and added sugar.

Ingredients:

For the salad:
Lacinato kale, thinly sliced
Swiss chard, thinly sliced
Crumbled blue cheese
Chopped walnuts
Dried cranberries
Thinly sliced or chopped apple (try Pink Lady - so crisp and perfectly sweet)

For the Maple Vinaigrette:
2 teaspoons pure maple syrup
1/8 teaspoon sweet paprika
1/4 cup apple cider vinegar
1/4 cup grapeseed oil (or any light flavored oil)
Good pinch coarse salt and freshly ground pepper

Instructions:
1. Prepare your vinaigrette by placing all its ingredients in a small jar or container. Shake well until thoroughly combined. Store in fridge for up to 3 days.
2.
Wash your greens as whole leaves by placing in a large bowl or a clean sink. Fill bowl or sink with cold water and gently shake, allowing any dirt trapped in the small parts to get released. I like to set out on clean dish towels to fully dry on the counter, patting with paper towels to help it along.
3. Combine your greens in a bowl. Pour a couple of tablespoons of dressing over your greens and toss to combine. Massage gently with your hands, or let sit for a few minutes to tenderize the greens.
4. Add blue cheese crumbles, walnuts, cranberries and apple to salad, gently toss and drizzle additional vinaigrette if desired.


Tip: Store the leaves whole, loosely wrapped in paper towels in your produce drawer. If the leaves are smaller, I place them in a ziplock bag.
Source: http://aggieskitchen.com/2013/02/12/kale-and-chard-green-power-salad-with-maple-vinaigrette/